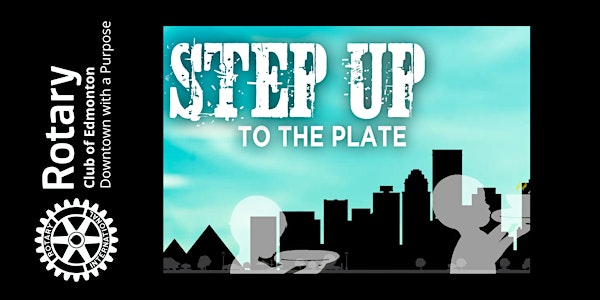 Come join us Monday noon October 30th 2023 at the Chateau Lacombe Hotel, Edmonton
Check-In: 11:30am
Program: 12:00pm-1:30pm
Tickets $85 each else Tables of 8 Available for $680 Parking Included
Modest Luncheon in keeping with the theme of the day
This year the charity to be supported by Step Up is
The Bissell Centre
Everything Bissell Centre does is grounded in its vision of eliminating poverty.

The Rotary Club of Edmonton invites you to STEP UP and support charities serving our most vulnerable citizens. Known as Edmonton's original mac and cheese luncheon, the event has benefited charities in the inner city, including iHuman, Boyle McCauley Health Centre, and CEASE (Centre to Eliminate All Sexual Exploitation). Our aim is two-fold:
1) Raise awareness to the homelessness issues faced within Edmonton
2) Come together to raise funds in support of this cause.
Please join us in person for a modest luncheon at the Chateau Lacombe.
The guest speaker last year was Don Iveson, former Mayor of Edmonton and Co-Chair of the Canadian Alliance to End Homelessness.
Please join us in our mission to support organizations addressing social issues in the downtown core.
Details of the following to be announced shortly:
1. Wine Tree Raffle
2. Silent Auction
Pictures from Step Up 2022 held November 2022:
Pictures from Step Up 2021 held November 2021:
Paul Harris Fellow
The Rotary Club of Edmonton traditionally honours a member of the Edmonton area who has contributed to improving the downtown community.
Paul Harris Fellows honored at past Step Up to the Plate events:
2023 - to be announced at Step Up event on Oct 30th
2022 - Martin Garber-Conrad of Edmonton Community Foundation, now retired
2021 - Cheryl Whiskeyjack, Executive Director, Bent Arrow Traditional Healing Society
Bent Arrow Society has grown greatly under her leadership to provide over 20 programs in 2021 which support youth and families in a variety of ways. She has a collaborative way of leading and connecting. Bent Arrow is a strong partner in the innovative and effective C5 collaborative in the city.
2020 - due to Covid, no one was selected
2019, Nov - Greg Christenson, President, Christenson Developments
A prominent developer and philanthropist in Edmonton
2019, May - Sophia Yaqub of Shaama Senior's Centre
2018 - Nicole Baker - Rotary YEX and at the time was President of McEwan Rotaract Club
Link for the origin of the Paul Harris Fellow award: